I spent three days this week away from Ulverston ( June average climate stats:

17°C day time high,

56 mm precipitation,

18 km/h wind speed

) in sunny Cambridge (

20°C day time avg high, 52 mm
avg
precipitation, 15
km/h
avg
wind speed

) o
n the
Prince's Teaching Institute
geography summer school. This is the tenth year the institute has been running and I'm grateful to my school for sending me on what has been an enriching and very worthwhile course. The following is just a very brief summary of the variety of lectures, networking and discussions that took place. Hopefully it will encourage others to get involved!
50 shades of grey - fracking in the USA and UK from Prof Ian Stewart.
I was looking forward to this lecture which came only a week after Ian's
BBC Horizon documentary on fracking
. I found the TV documentary interesting in terms of outlining the methods involved in fracking and the various claims and accusations that have been thrown at this new and relatively unknown energy source.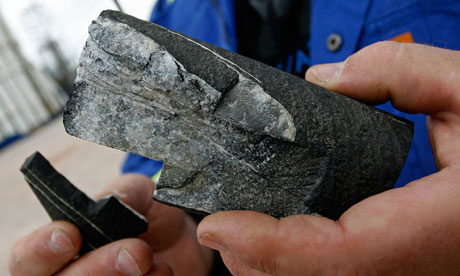 Shale rock. Photo source: Guardian.co.uk
I

did feel Ian's presentation lacked a deeper discussion on the potential impact of fracking on global warming and frackings potential to direct investment and development from renewable technology. This is particularly relevant for the UK at a time when the independent Committee on Climate Change has just reported that the UK is in danger of missing its CO2 reduction targets for 2020. However, he clearly communicated the issue in an engaging way; a key skill for scientist surely?
Christian Nold - mapping emotional change
A very different geography topic from fracking and a great example of the diversity of topics that fall under the geography topic. Christian explained his approach to mapping emotions using technology in this case a homemade emotion monitor made out of a lie detector connected to a GPS device. Individuals walk around a local place and their emotional response is recorded through the sensors on their fingers and the location recorded by the GPS. Once the data is uploaded onto a map and visualized in the form of 3D bars, Christian talks through with the individuals what each peak and trough on the graph could be, whilst trying to pull out what they remember encountering at each point
. A very cool way of representing a different type of data.
Preparing to emotional map in the field. Source: Alasdair Monteith
In the field...... Geographers let loose in Cambourne

.
As a group we were lucky enough to experiment with Christian's homemade emotional brew kit whilst on a field trip to Cambourne, a new build eco town that gets its fair share of
media attention
(
we are geographers after all...). In small groups, we walked around the town and whilst one persons 'arousal' levels were mapped by the detector, the rest of the team conducted some basic data collection - pedestrian counts, environmental quality surveys - and recorded the results as the names of each waypoint using a range of mapping apps such as
field notes pro
and
Maverick
. Once visualised, the data presents a really interesting glimpse into the emotions we go through whilst walking through places and how conventional data gathering techniques may miss this more subtle view of the world. As a group, we also came to the conclusion that a paper based emotion table and good old paper map could substitute for the flash kit and expensive GPS.
The opportunity to get out and about with fellow geographers adds weight to the need for geography to have a strong fieldwork element. You can't experience the size of a glaciated valley, see the impact of development or experience a deprived community solely through a picture or book ( no matter how much Planet Earth or Eastenders you watch).
National Curriculum focus
We also had the opportunity to discuss the new curriculum plans for KS3-5 with Alan Kinder, Chief Exec of the Geographical Association. There was a general appreciation of the increased flexibility for geography teachers and the potential for more creativity and less prescription that the proposed curriculum changes offer. However, I still remain unhappy about the exclusion of climate change as a defined topic that should be taught ( soils gets it own mention) and the fact that the document still includes a specific list of countries that should be studied.
Summary
One of the real strengths of the course was its ability to marry engaging, high level academic research from active researchers, with best practice in effective teaching and learning from colleagues from across the country. It often seems as though subject knowledge and the love of the topic is overlooked in CPD in favor of teaching methods. We need the balance of both. One of the reasons I came into teaching was a love of my subject, I feel most able to communicate this enthusiasm when I'm learning about new and exciting
geography events and research.
Unfortunately, what we really needed in the plenary session on Wednesday was the Minister of Education to be on the podium listening and answering questions.
More information about the Prince's Teaching Institute here